We speak to celebrity chef Francesco Mazzei about the joys of food — especially at Christmas time.
He tells us why a table full of festive delights can make or break your Christmas day, and shares his family's favourite recipe for this time of year.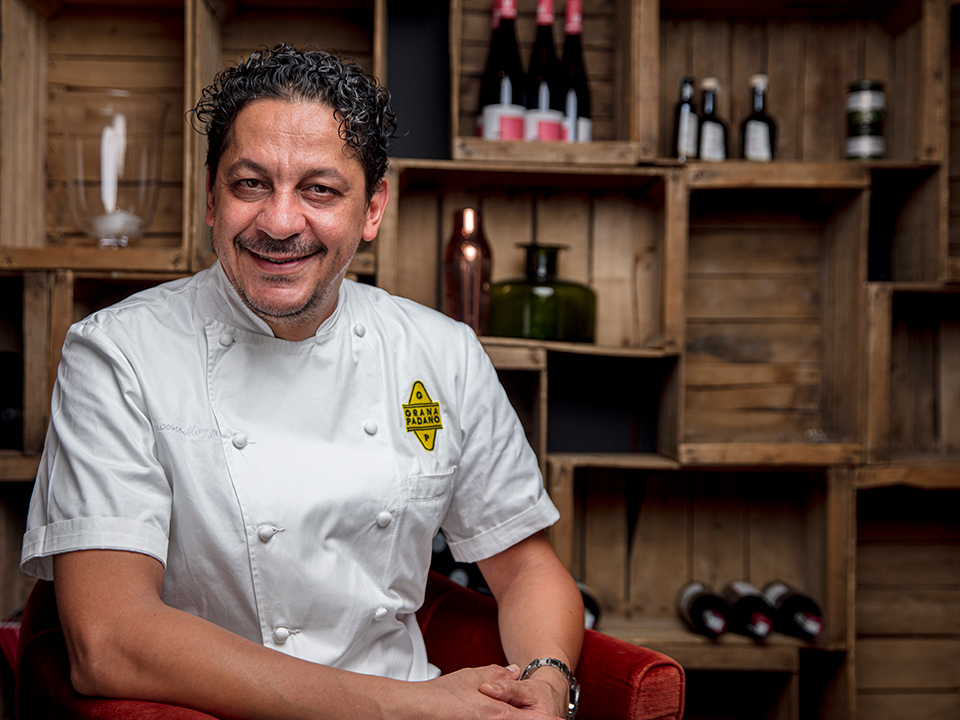 "My favourite Christmas dish is hands down my oven roasted capon, stuffed with anellini pasta and Grana Padano Riserva, with all the trimmings — it's a Mazzei Christmas classic. I have fond memories of my parents making this dish at Christmas and it's great to bring a bit of Italy to the UK during the festive season.
"There are various Italian traditions that differ to Britain. For example in Italy, fish is often enjoyed on Christmas Eve followed by a meatier dish on Christmas itself. "La Befana" is an old woman, sometimes depicted as being a witch, who delivers gifts to children instead of Santa Claus!
"I don't think I could decide which country has the best Christmas… I like bringing traditions from the UK and Italy together and enjoying the best of both worlds. Especially when people are likely to be spending time in different locations this year.
"Food and technology break the barriers of distance and have been so important this year. In March I hosted various cooking demos on my Instagram account with Grana Padano to try and bring people together and lift spirits during lockdown.
"I have a feeling I will be enjoying one or two more Zooms over Christmas and the New Year with family and friends in Italy.
"Bringing family together and making memories around the dinner table truly are the best parts of Christmas. Now please enjoy my family's favourite recipe for this time of year!"
Oven roasted capon, stuffed with anellini pasta, Grana Padano Riserva and truffle
SERVES 4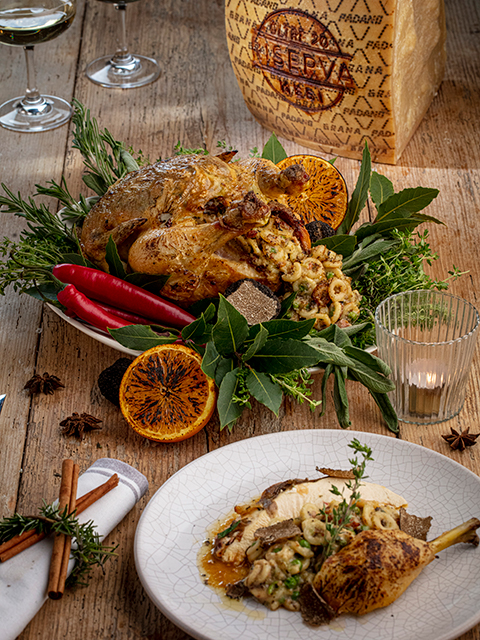 Ingredients
1 whole corn-fed chicken
150g anellini pasta (or you can use tubettini or bucatini)
100g frozen peas
100g fresh sausage, crumbled
50g black winter truffle (or you can use dried porcini mushrooms)
100ml chicken stock
100g mozzarella cheese, diced
120g Grana Padano Riserva
5g chives, chopped
5g parsley, chopped
1 banana shallot
20ml Extra Virgin olive oil
Salt and black pepper
Method
Preheat the oven to 180°C/Gas 4.
In a frying pan, sweat the chopped shallot with the olive oil until soft.
Add the crumbled sausage and fry until it's crispy.
Add the peas and pour in the chicken stock. Cook for about 5 minutes.
Meanwhile, bring a pot of salted water to the boil.
Cook the anellini for ¾ of the time suggested on the packet — the anellini will continue to cook in the sauce and then inside the chicken.
Drain the anellini and mix it into the sauce.
Remove from heat and add the chopped chives, parsley and the black truffle. Add the grated Grana Padano Riserva and diced mozzarella.
Season with freshly ground black pepper and salt, if needed. Set aside to cool.
Season the chicken with salt and black pepper. Stuff the chicken with the anellini. Secure with rosemary sprigs or toothpicks.
Tie the legs and wings with butchers' twine and place it on a baking tray.
Roast in the oven for 30 to 40 minutes, then increase the temperature to 200°C/Gas 6 and cook for another ten to 15 minutes.
Leave it to rest for about five minutes then slice and serve.
Subscribe to Platinum today and get every issue delivered to your door. Or find your local stockist, here.