This delightful cinnamon star recipe from Konditor is simple and delicious — the perfect weekend bakes to enjoy with the grandkids.
In Germany, it's traditional to bake a vast selection of small cookies for Christmas. A sticky and sweet recipe means we can't guarantee a clean kitchen, but the end result is worth all the scrubbing.
Cinnamon stars, German style
MAKES 50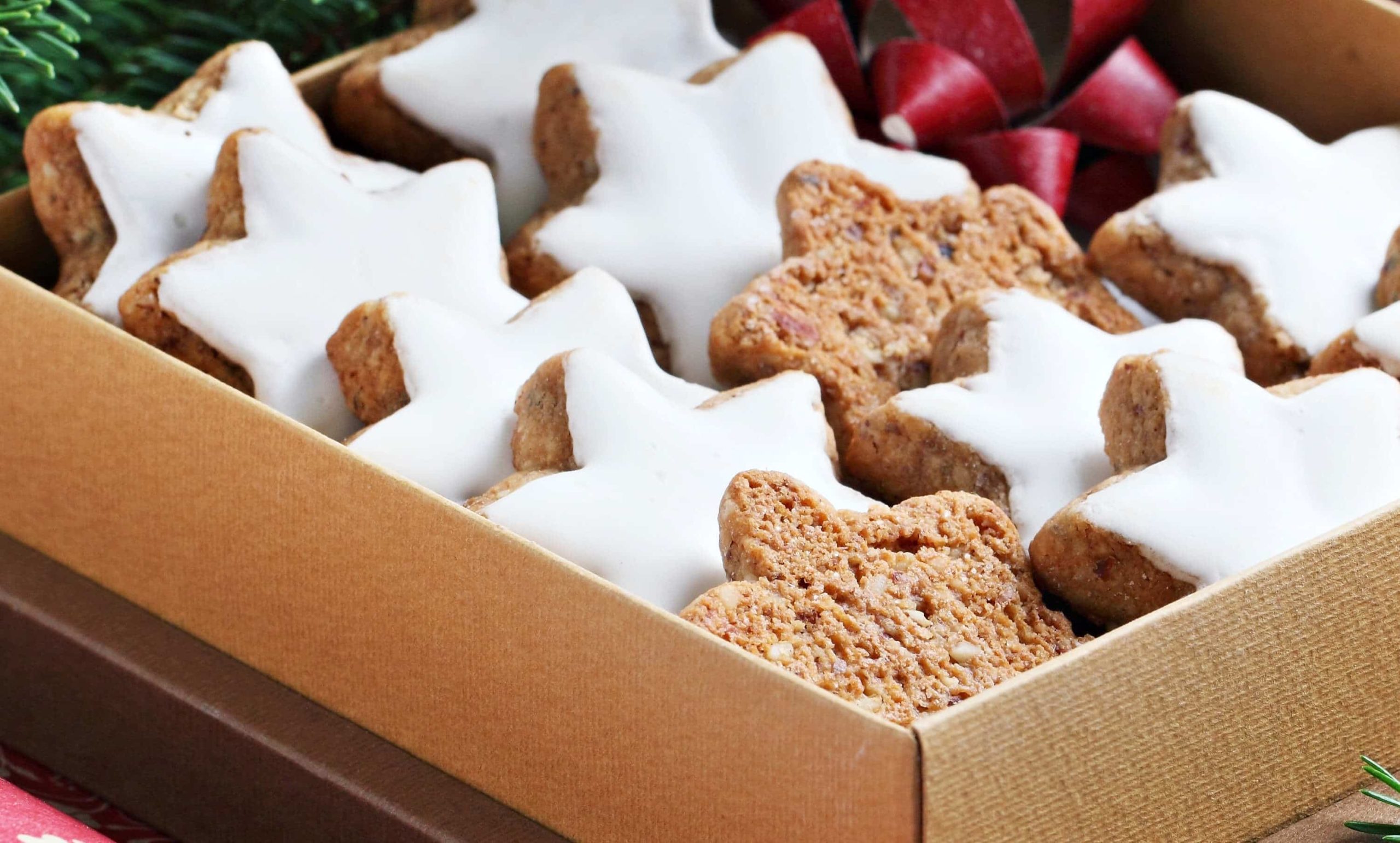 Ingredients
2 medium egg whites
1 pinch of salt
1 tbsp lemon juice
250g icing sugar, sifted
Grated zest of 1/2 unwaxed lemon
175g ground almonds, plus extra for rolling
75g mixed candied peel, whizzed briefly in a food processor or very finely chopped
2 tsp ground cinnamon
1/4 tsp ground cloves
Put egg whites in a mixing bowl, add the salt and lemon juice and start beating with an electric mixer.
Once you see bubbles forming, gradually add the icing sugar, beating until you have a thick meringue.
Transfer about a third of the meringue (125g) to a bowl and set aside, covering with cling film.
Add the rest of the ingredients to the remaining meringue and mix with a wooden spoon or a spatula to form a firm dough.
Dust a work surface lightly with ground almonds and roll out the dough to a sheet eight millimetres thick. Transfer to a baking sheet or chopping board that will fit in your fridge.
Using a palette knife, spread a thin, even layer of the reserved meringue on top. You probably won't need it all — what is left can be recycled in a second round of rolling.
Chill the sheet in the fridge for one to two hours, until the meringue has set and is no longer wet.
Remove the dough from the fridge and cut out stars with a three centimetre star-shaped cutter — or a 5cm klipp-klapp cutter, if you happen to have one.
Cut the stars out with minimal gaps, as the first round of rolling makes the nicest cookies.
For the best results, dip the cutter into cold water first, shake off the excess water, then cut out the star. Use your middle or index finger to push the star upwards out of the cutter, being careful not to get any fingertips on the delicate meringue surface.
Place the cookies one centimetre apart on a baking tray lined with baking parchment.
Recycle the offcuts by gathering them up and adding some more ground almonds to them, since the meringue on top will have made the dough softer.
Roll out a thin layer of meringue and chill as before, then cut out more stars.
If you run out of meringue, you can also bake the stars plain, leave them to cool and then drizzle some melted chocolate over them, or dip them in the chocolate icing.
Heat the oven to 200 degrees/gas mark 6.
Put the stars on the lowest shelf, as they need hardly any top heat, and bake for about seven minutes.
The meringue should stay nice and white, with a hint of light browning around the edges. The base should be dry and a light golden brown, while the centre should still be moist.
Remove from the oven and leave to cool on the tray.
Stored in an airtight container, the stars will keep for several weeks.
Share your Cinnamon Star creation with us on Instagram @PlatinumMagUK and hashtag #joythroughcake #konditorcakes
Subscribe to Platinum today and get every issue delivered to your door. Or find your local stockist, here. Head to our food and drinks archive for more cocktails and recipes.