Chef Aldo Zilli has created a unique three course menu, showing love doesn't have to just be celebrated on Valentine's Day.
Mionetto believes that romance should be a staple of any couple's relationship, all year round — not just on special occasions.
Roses are debatably the most romantic of flowers, therefore it stands to reason that Mionetto's new Rosé Prosecco is the most romantic tipple to enjoy with your loved one.
To celebrate the launch of Mionetto's new Rose Prosecco, they teamed up with Celebrity Chef, Aldo Zilli to create a gorgeously romantic three-course menu infused and complimented by the refreshing new drink.
Aldo Zilli says, "A glass of Prosecco is about so much more than just the flavour – the beautiful aromas and tantalising bubbles are so important to stimulate your senses. A tulip glass, or any glassware that curves inwards as it moves up, ensures that the bubbles do not escape too quickly and thus keep the fizz within the drink itself."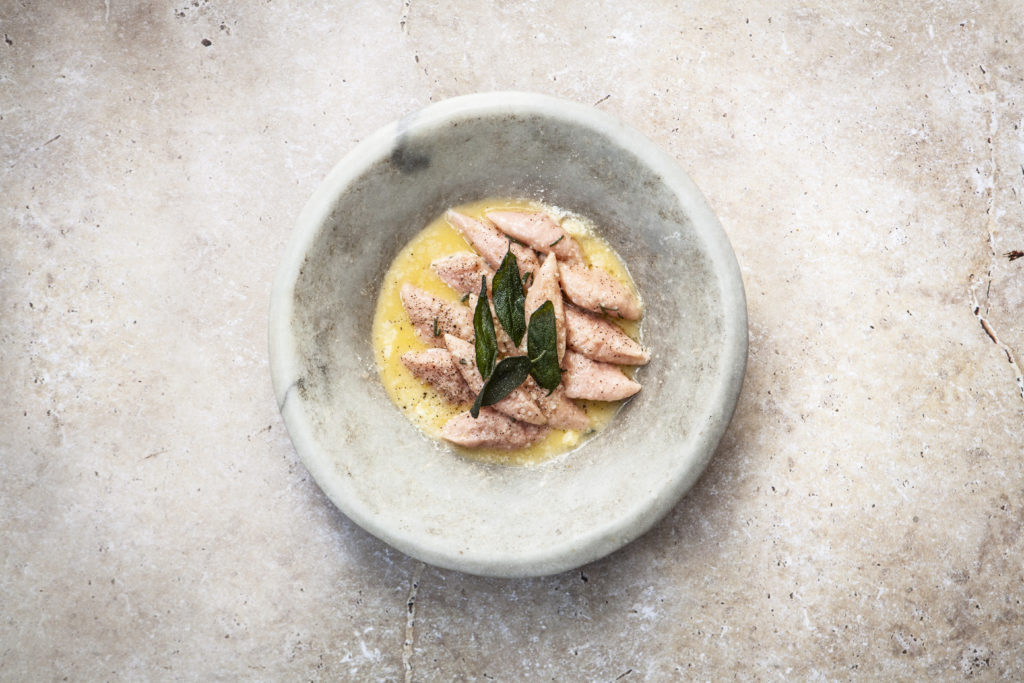 Beetroot and Mionetto Rosé Prosecco Gnocchi with Sage Butter and Pecorino Cheese
Ingredients:
For the gnocchi:
400g floury potatoes such as King Edward, peeled and cut into regular squares
200g cooked beetroot, peeled and roughly chopped
150g Zero Zero flour or alternative
A pinch of salt
For the sauce:
70g unsalted butter
3 sage leaves
4 tbsp grated pecorino cheese
2 tbsp Mionetto Rosé Prosecco
Salt to taste
Method:
Place the potatoes into a pan of salt water and bring to the boil. Simmer for 15-18 minutes, or until they are tender.
Drain the potatoes, return to heat to dry off excess water and leave to cool for a few minutes.
Mash the potatoes until smooth.
Blend the beetroot in a food processor into a purée. Pass the purée through a fine sieve.
Tip the flour into a bowl, add the mashed potato, beetroot purée and salt.
Using your hands, mix well until it reaches a smooth consistency, then split the dough into 2 equal pieces and roll each piece into long 'sausage' shapes.
Using a knife, cut the 'sausages' into 2cm pieces and set aside.
Melt the butter in a large saucepan and add the sage leaves, allow to infuse for 30 seconds, then add the Mionetto Rosé Prosecco and some cooking water. Add salt to taste.
Bring a large saucepan of salted water to the boil, add the gnocchi and bring to a simmer until they float to the surface.
Scoop the gnocchi out of the saucepan with a slotted spoon and allow them to drain a little.
Add the gnocchi to the sauce and mix well, cook for a minute, or until the sauce begins to thicken slightly.
Remove pan from heat, stir in the pecorino cheese and serve immediately.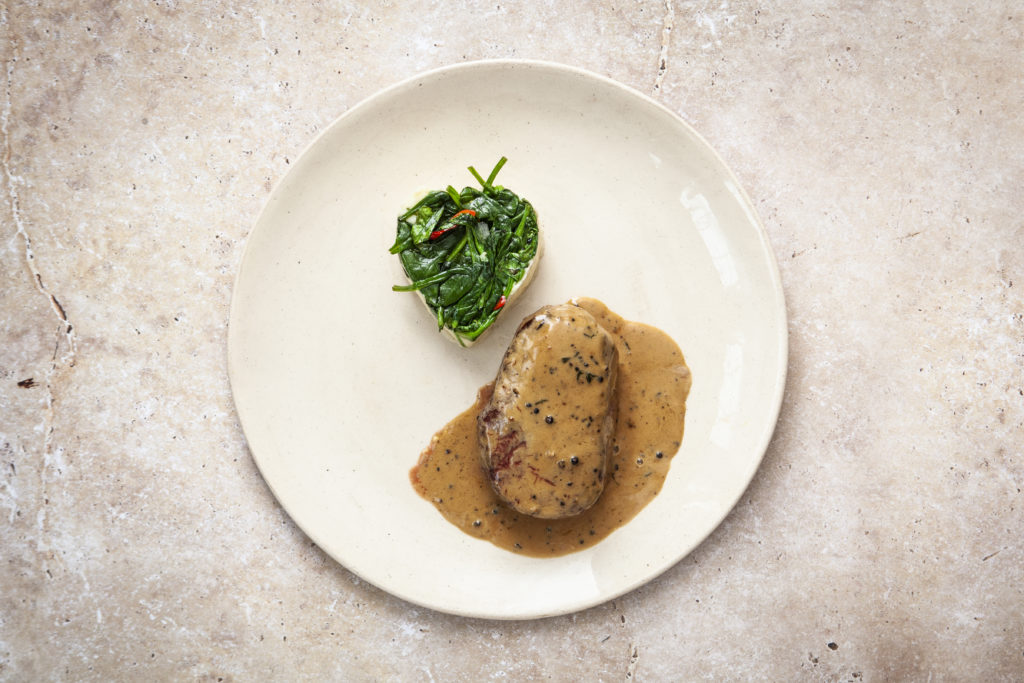 Beef Fillet with Peppercorn sauce, Parmesan Mashed Potato & Spinach
Ingredients:
For the beef fillet:
2 beef fillets, 180g each
1 sprig of thyme
1 sprig of rosemary
Salt and pepper
1 tbsp extra virgin olive oil
1 tbsp of butter
2 cloves of garlic, crushed
½ tbsp peppercorns
20ml cooking brandy
50ml beef stock
50ml double cream
For the parmesan mashed potato:
250g Maris Piper potatoes
25g unsalted butter
½ tbsp double cream
Salt and fresh ground pepper to taste
1 tbsp parmesan cheese
For the spinach:
1 tbsp extra virgin olive oil
300g baby spinach
Salt and fresh ground black pepper
1 garlic clove crushed
1 red chilli finely chopped with seeds
Method:
Peel the potato and cut in half, place in a saucepan with water on a high heat, add a pinch of salt and bring to the boil. Cook until tender enough to break with a fork.
Leave the potatoes in a colander for about 3-4 minutes until very dry.
Meanwhile, season the beef fillets on a plate with crushed peppercorns.
Put the olive oil, butter, rosemary and thyme in a pan over low heat and then add the steaks, basted the steak for 4 minutes on each side. Once cooked, remove the steak and leave to rest.
Remove the thyme, rosemary and oil from the pan. Add fresh butter, a tsp of olive oil, and the peppercorns. Put the steak in the pan and flambé with brandy. Take the steak out.
Leave the sauce to reduce by half, then add the beef stock and reduce again by half. Add the cream and a tsp of salt.
Meanwhile, place the potatoes in a large bowl, mash until smooth without lumps. Add the butter and parmesan and mix well until melted.
Add the cream to the potatoes and mix well, add salt and pepper to taste.
Place the fillet in the sauce and cook for a further one minute on each side, this will give you a medium rare steak.
In a separate frying pan on a low heat, add the garlic and chili and cook for 30 seconds. Add the spinach and mix thoroughly with a wooden spoon.
Leave the spinach to cook for about 2 minutes and remove the pan from the heat, season with salt and pepper.
Serve the fillets immediately with the parmesan mash, sautéed garlic, chilli spinach and peppercorn sauce.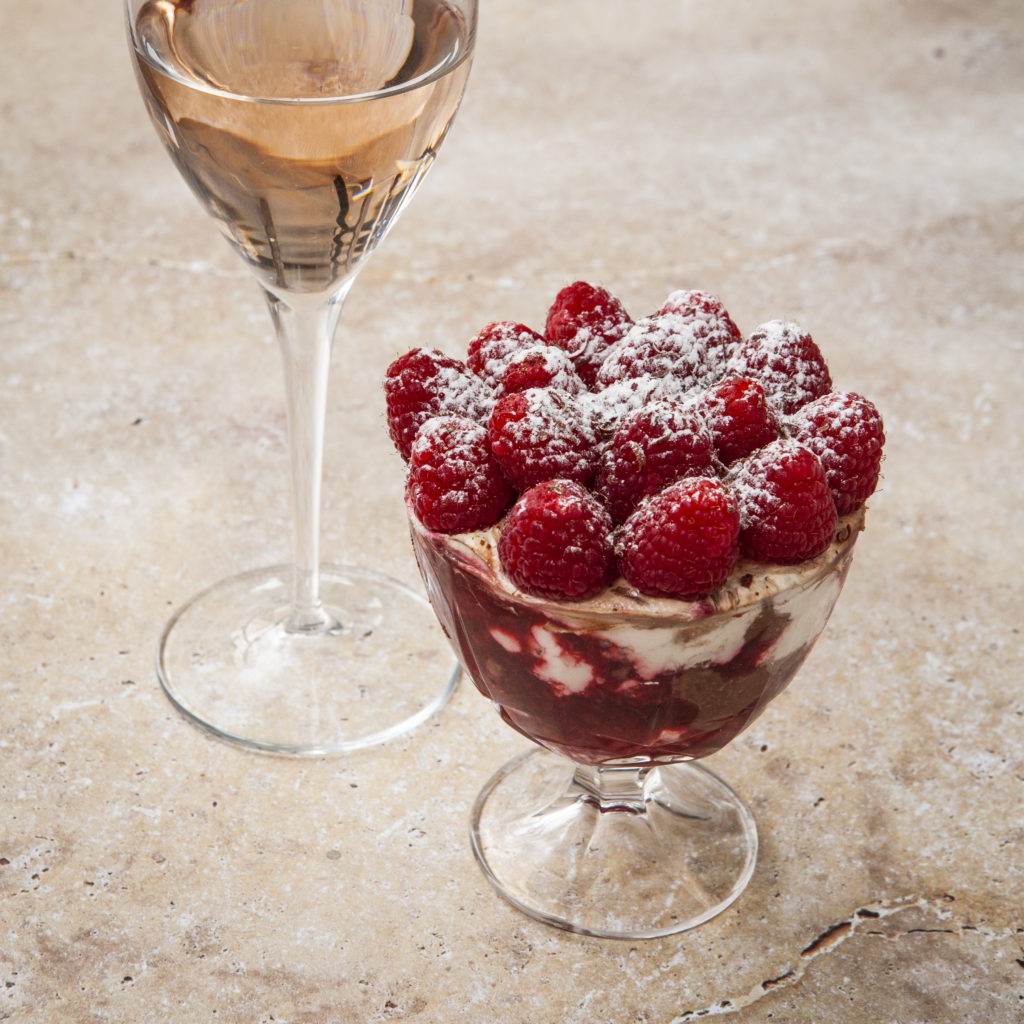 Mionetto Rosé Prosecco and Raspberry Chocolate Mousse
Ingredients:
90g dark chocolate (saving a few cubes for decoration)
325 ml whipping cream
4 tbsp Mionetto Rosé Prosecco
150g of frozen raspberries
1 punnet of fresh raspberries
1 tsp of icing sugar
2 tsp caster sugar
Method:
Put a heatproof bowl over simmering water and ensure bowl isn't touching the water.
Break up chocolate and put into bowl, along with 100ml whipping cream and allow to melt, stirring often.
Once melted and mixed together, take off heat and allow to cool for 15 minutes.
Crush the raspberries along with sugar and Mionetto Rosé Prosecco in a blender, spoon the mixture into 2 glasses or cups.
Whip the remaining cream until it forms soft peaks, using a plastic spatula carefully fold into the cooled chocolate, until all is mixed well.
Spoon the mousse on top of the raspberries, finely chop or shave the rest of the chocolate on top. Place in the fridge and leave to set for an hour before serving.
Place in the fridge and leave to set for an hour before serving.
Mionetto's new Prosecco Rosé (RRP £10.95) is available to buy in Nisa stores, Wholefoods and online at Slurp. Aldo Zilli shares its the best accompaniment for his dishes.
Discover more recipes with Platinum.