We partnered up with chef, podcaster and food blogger, Alexandra Dudley. She shares some deliciously simple canapé recipes using British-grown blackberries.
Brighten up your Christmas menu by adding a touch of sweet-and-sour to your starters. These canapés are full of flavour, but light enough to leave plenty of space for your show stopping main course.
Pickled Victoria blackberry, ricotta and honey crostini
SERVES UP TO SIX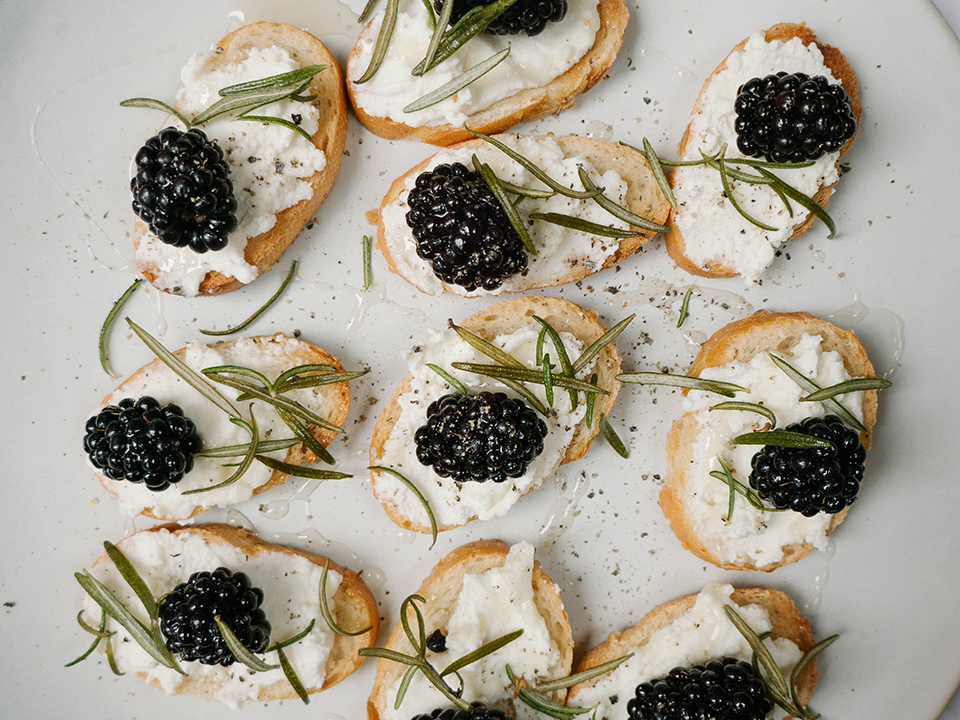 Chef Alexandra says, "This is a beautiful canapé to serve at the turning of the seasons. Do not be put off by the idea of pickling. Look for British-grown Victoria blackberries. They are larger and juicer and perfect for this recipe."
Ingredients 
For the quick pickled blackberries
125g Victoria blackberries
100ml water
100ml apple cider vinegar
50g sugar
1/2 tsp salt
1/2 tsp black peppercorns
For the bread base
12 thin slices of lightly toasted baguette, cooled
120g ricotta
Runny honey, for drizzling
1 handful of rosemary leaves
Olive or sunflower oil for frying
Sea salt and freshly ground black pepper to serve
Method
First, pickle the blackberries. Heat water, apple cider vinegar, sugar, salt and peppercorns in a saucepan until the sugar has dissolved. Remove from heat.
Place blackberries into a sterile jar.
Pour over warm liquid. Allow to rest overnight in the fridge.
For crispy rosemary, place a saucepan over medium heat and add enough oil to reach one centimetre in height. Test the heat by dropping a rosemary leaf in — once it sizzles it is ready.
Add the rosemary to the hot oil — take care as it may split.
After about five seconds, remove the leaves using a fork and place them onto a kitchen towel-lined plate.
Serving: spread ricotta over lightly toasted, cooled baguette slices. Grind over with a fresh black pepper and sea salt, and top each one with a pickled blackberry.
Drizzle over some runny honey and finish with a few crispy rosemary leaves on each.
Victoria blackberry, brie and thyme filo tarts
MAKES 24 (24-hole muffin tin required)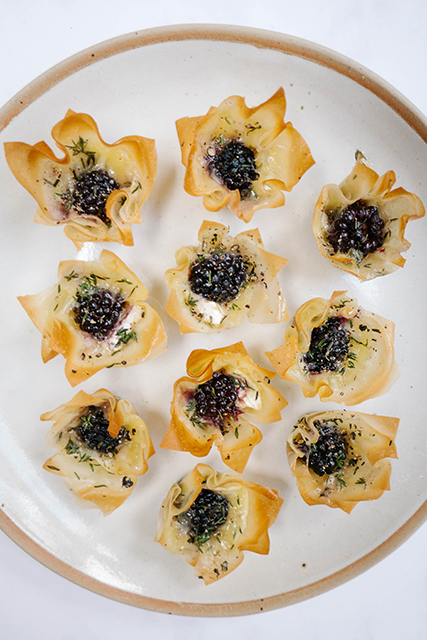 "There is something irresistible about the combination of melted cheese and flaky pastry", says Alexandra. "I especially love to serve these mini tartlets around Christmas time. Think warm soft brie oozing from crisp pastry and a burst of fruity flavour from plump and juicy blackberries. Delicious!"
Ingredients
4 sheets of filo pastry
50g melted unsalted butter
200g brie
150g Victoria blackberries
1 bunch of thyme, leaves removed
Salt and freshly ground pepper
Method 
Preheat the oven to 180°C/Gas 4.
Keep your pastry covered under a damp tea towel (to keep it from drying out).  Remove one sheet and brush it with melted butter. Using scissors, cut this into roughly five-centimetre squares.
Arrange three squares and place them on top of each other turning them as you go so that you create almost a star effect. Place the pastry stack into the hole of the mini muffin tin and push to create a tartlet shell.
Repeat until you have filled all 24 holes.
Chop brie into 24 pieces and push into each pastry case.
Halve the blackberries and place one half on each tartlet.
Sprinkle a pinch of thyme onto each and season with salt.
Bake until pastry looks golden brown and the cheese has melted.
Sprinkle over more fresh thyme and grind a generous amount of black pepper.
Walnut biscuits with goat's cheese and blackberries
MAKES 30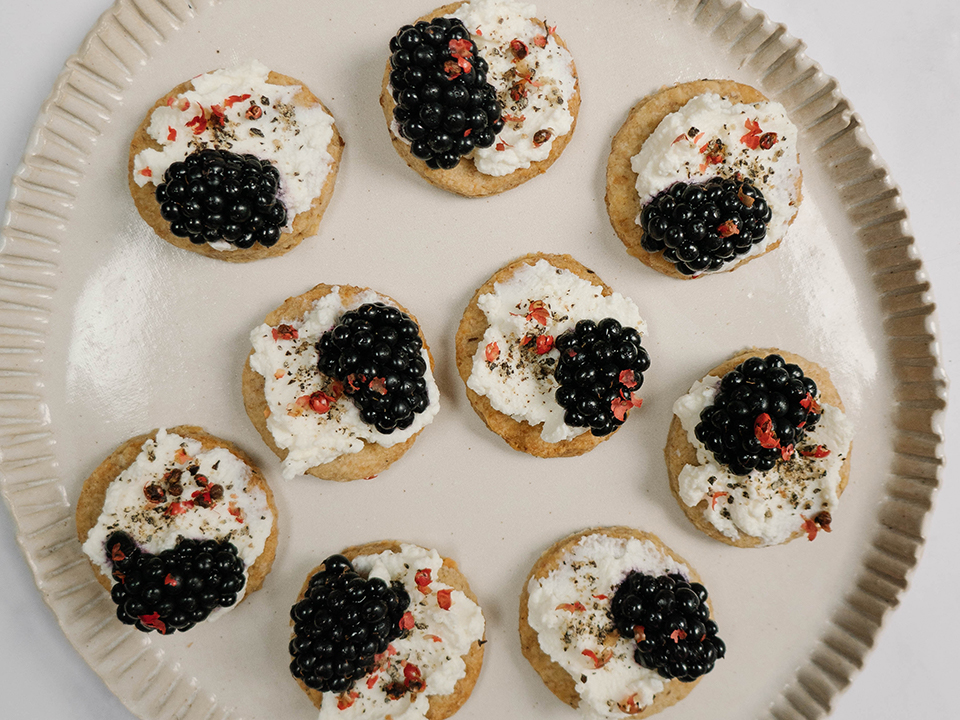 "This wonderfully creamy recipe leaves you with a tangy burst of fresh berry juiciness", Alexandra enthuses. "The pink peppercorns add a subtly fiery kick as well as a superb colour. This recipe makes 30 biscuits which will keep for a week in an airtight container."
Ingredients
For the biscuits:
50g walnuts
80g wholemeal flour
100g plain flour
½ tsp salt
2 tbsp caster sugar
100g cold unsalted butter cubes
3 tbsp milk
To serve
100g creamy goats' cheese
125g Victoria blackberries
Freshly ground black pepper
1 tsp pink peppercorns, crushed in a pestle and mortar
Method
Place walnuts into a food processor and pulse until they resemble bread crumbs.
In a large mixing bowl, whisk together the ground walnuts, wholemeal flour, plain flour, salt and caster sugar with a whisk.
Rub in cold butter until it resembles a crumble, then add milk and knead lightly to form a dough. Chill in the fridge for 20 minutes.
Preheat the oven to 180°C/Gas 4.
Roll out on a floured surface to roughly the thickness of a one pound coin.
Use a five centimetre cookie cutter to cut into rounds and place on a non-stick baking sheet.
Bring together any scraps of pastry, roll out and cut until you've used as much pastry as you can.
Prick with a fork and bake for 12 minutes until golden brown.
Allow to cool. You can keep these biscuits for up to a week in an airtight tight container until you are ready to serve. I recommend serving 12 biscuits for up to six people.
To serve spread each biscuit with creamy goat's cheese. Grind a generous amount of black pepper, top with a halved blackberry and finish with a pinch of the crushed pink peppercorns.
Subscribe to Platinum today and get every issue delivered to your door. Or find your local stockist, here.