Perfect for lovers of kale, avocado and chickpeas, this unique take on the classic Caesar salad is packed with superfoods to keep your immune system strong.
Light and easy-to-make, this Caesar salad recipe is made with superfood ingredients that prove healthy eating can be colourful and delicious.
Your preparation time is around ten minutes, with cooking time at about 35 minutes. Enjoy!
Cavolo nero kale Caesar salad with smoky chickpeas
SERVES 2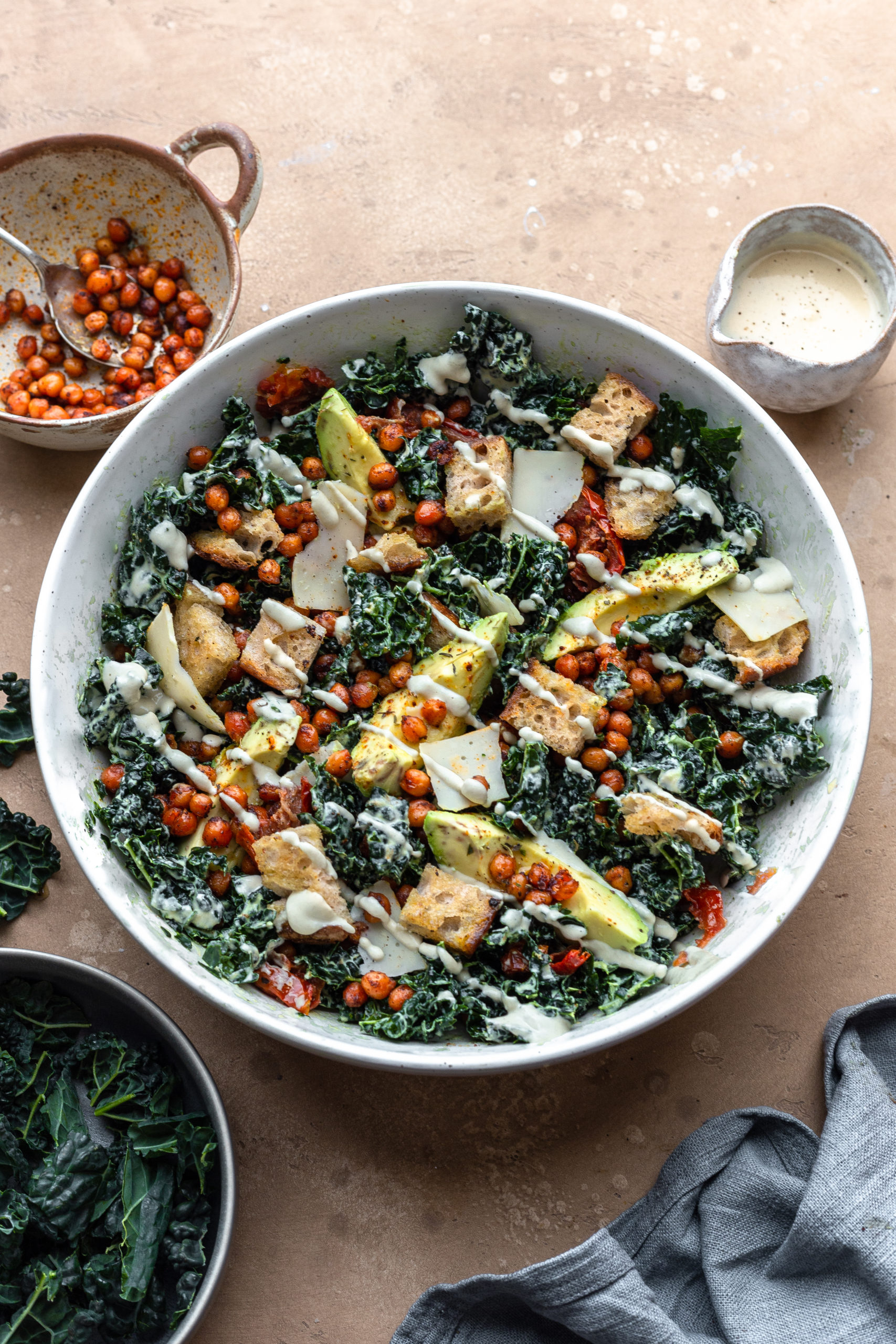 Ingredients
200g kale
3 slices sourdough
2 avocados
6 sun dried tomatoes, in oil
Vegan parmesan
For the smoky chickpeas
1 tin (400g) chickpeas
1 tbsp oil
1 tbsp smoked paprika
1 tsp maple syrup
1 tsp soy sauce
½ tsp garlic powder
Black pepper
For the dressing
1 cup (140g) cashews
¾ cup (180ml) water
4 tbsp nutritional yeast
2 tsp capers
1 tsp Dijon mustard
2 garlic cloves
½ tsp salt
Juice of one lemon
Preheat the oven to 180°C, Gas 4.
Drain chickpeas and place on a baking tray with one tbsp of oil.
Place in the oven for ten minutes.
Toss with smoked paprika, maple syrup, soy sauce, garlic and black pepper and place in the oven for a further 15 minutes.
Wash and destem the cavolo nero kale. Roughly slice into one-inch pieces. Drizzle with some olive oil and massage with your hands for a few minutes. It will reduce in size and darken in colour.
Place the dressing ingredients in a high-speed blender and then pour over the cavolo nero kale. Toss until well coated.
Cut the sourdough into crouton-sized pieces and drizzle in some olive oil, salt and pepper.
Pop in the oven for around six minutes until toasted and golden.
The chickpeas should be crispy; remove from the oven.
Assemble the salad.
Slice avocado and place on top of the cavolo nero kale along with the chickpeas, sun dried tomatoes, sourdough croutons and shavings of vegan parmesan.
This delicious recipe comes from the cooking experts at Cupful of Kale and Discover Great Veg.