This roasted butternut squash recipe is the perfect alternative for your vegetarian and vegan guests this Christmas.
Spice roast squash with torn mozzarella, hazelnut sage pesto, Victoria blackberries and crispy sage
The components may appear simple, but there is something incredibly moreish and delicious about this recipe. We often think of juicy tomatoes when using mozzarella but blackberries are also a perfect match, bursting in the mouth with tanginess.
Make vegan by preparing without mozzarella.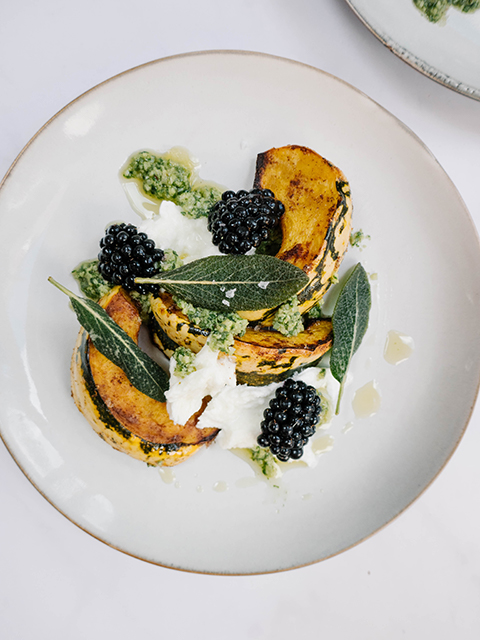 Ingredients
125g mozzarella
1 handful of sage leaves
Olive oil
120g blackberries
1 acorn squash or half a butternut squash, seeds removed and chopped into even pieces
1/2 tsp mixed spice or cinnamon
1/4 tsp cayenne pepper (or just a pinch for less spice)
1 tsp salt
Olive oil
For the pesto
75g blanched hazelnuts
1 bunch of sage, tough stems removed (plus extra leaves for crisping)
1 bunch of basil
1 garlic clove, crushed
1 lemon, juiced
1 pinch of sea salt
Olive oil
Method
To make the pesto, place all listed ingredients apart from the oil into a food processor and pulse until well broken down.
Transfer into a clean bowl and add olive oil stirring as you do until you reach the desired consistency. Taste for seasoning, adding salt if needed. Set aside.
Preheat your oven to 225°C/Gas 7.
Arrange your prepared squash onto a baking tray. Sprinkle over the mixed spice (or cinnamon), cayenne pepper and sea salt.
Drizzle with olive oil and massage to coat.
Roast for about 25 minutes until cooked through and slightly charred.
To make the crispy sage, place a small saucepan over a medium heat and add enough oil to reach one centimetre in height. Test the heat by dropping a sage leaf in — once it sizzles it is ready.
Gently lie crisped sage leaves on a kitchen roll covered plate. Take care as it may split.
To serve, arrange the charred squash either onto serving plates or one large sharing platter.
Tear over mozzarella and spoon over the pesto.
Arrange three blackberries over the top and finish with the crispy sage leaves.
Subscribe to Platinum today and get every issue delivered to your door. Or find your local stockist, here.