Vegan recipes and ingredients can seem obscure 

and a little plain 

sometimes, but these dishes are 

simply delicious

 and you can find all ingredients at your local supermarket.
Perfect for World Vegan Month!
Why not give the plant-based lifestyle a try this week? These seven delicious recipes from California Walnuts make it easy for you to switch up your diet and try something new. On Saturday, enjoy the fanciest beans on toast you've ever had. Sunday's homemade pizza is a real treat to finish the week, too. 
Nutritional information is included below, outlining some essential health benefits that come with a greener dinnertime. 
MONDAY  
Walnut, aubergine and mushroom keema curry 
SERVES 4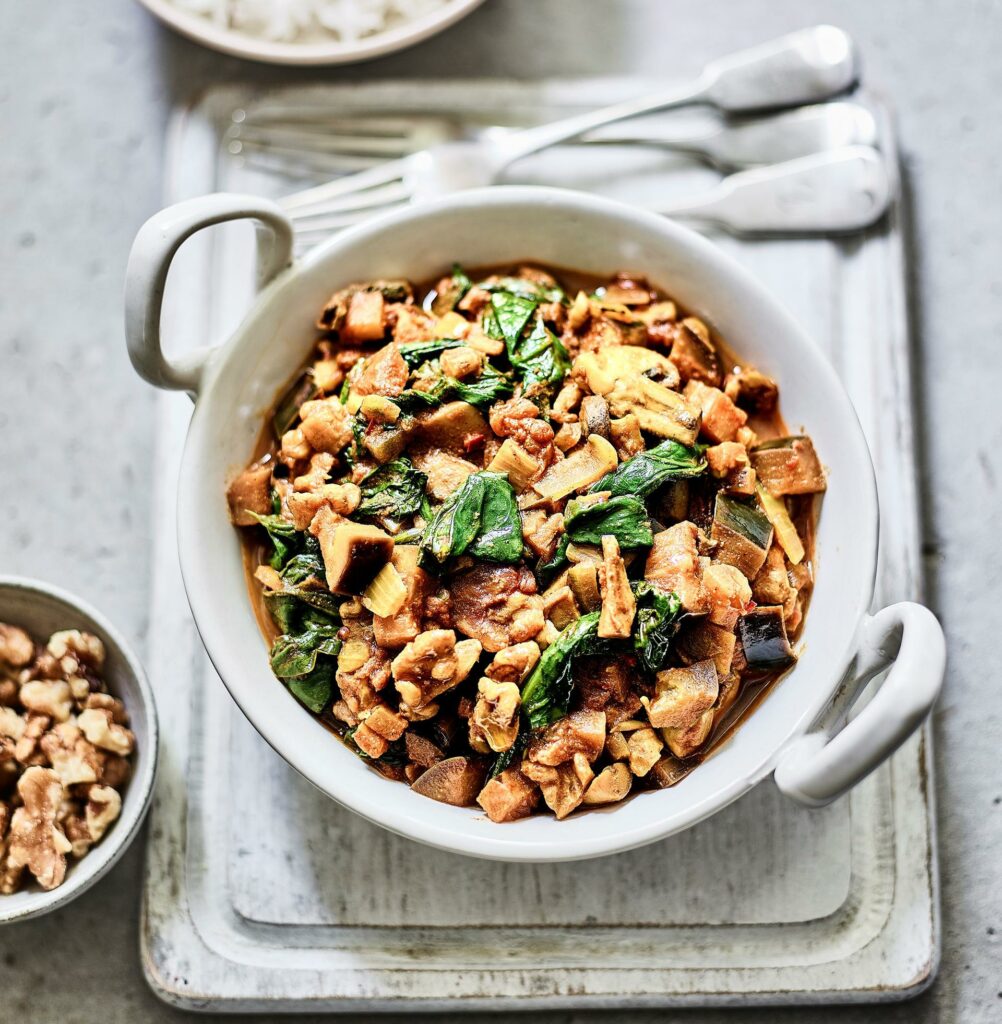 Ingredients
150g walnuts, chopped
1 tbsp oil
1 onion chopped
1 red chilli, finely diced
1 tbsp medium curry powder
1 tsp ground turmeric
1 aubergine, cut into 1cm dice
200g mushrooms sliced
400g can chopped tomatoes
100g baby spinach
225g basmati rice cooked 
Soak the walnuts in lukewarm water for 20 minutes, then drain well.

 

Meanwhile, heat the oil in a large frying pan and fry the onion and chilli for five minutes, add the spices and then the aubergine and mushrooms, cook for a further five minutes.

 

Stir in the tomatoes, 100ml water and the walnuts, bring to the boil, cover and simmer for




ten minutes. Stir in the spinach until just wilted and season.

 

Serve with the cooked basmati rice.

 
 Nutritional information
Serving: 481g | Calories: 561kcal | Carbohydrates: 52g | Protein: 16g | Fat: 31g | Saturated Fat: 3.6g | Fibre: 8.2g | Sugar: 9.2g 
TUESDAY 
Mushroom and walnut orzetto
SERVES 4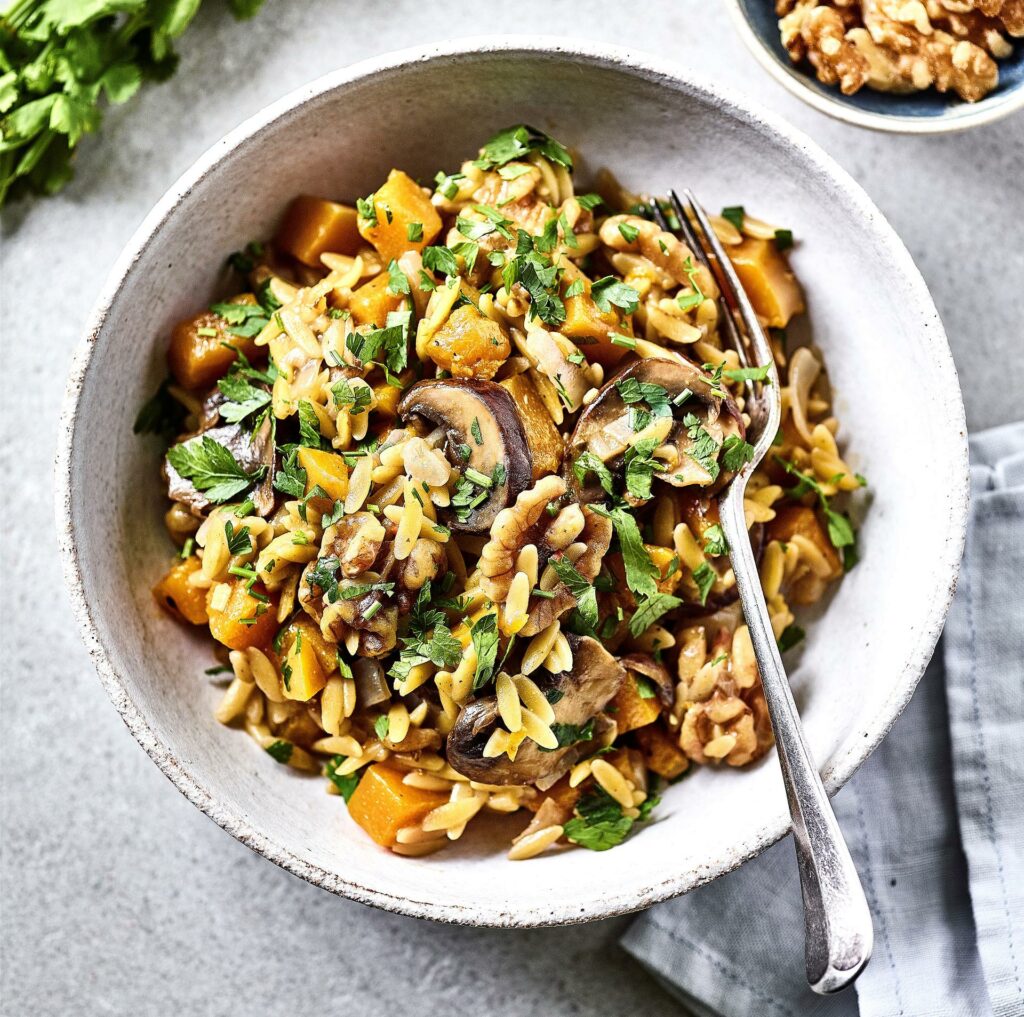 Ingredients 
1 tbsp olive oil
1 onion, chopped
1 clove garlic, finely chopped
400g butternut squash, cut into 1cm dice
100g walnuts
200g mushrooms sliced
250g orzo pasta
600ml vegetable stock
1 tbsp white wine vinegar
2 tbsp chopped parsley 
Heat the oil in a large frying pan and fry the onion, garlic and squash for five minutes. Stir in




the walnuts and mushrooms and cook for three minutes.

 

Add the orzo and stock, cover the pan and simmer for ten minutes, stirring occasionally until the pasta is tender. Season and stir in the vinegar and parsley to serve.

 
Nutritional information
Serving: 348g | Calories: 511kcal | Carbohydrates: 59g | Protein: 15g | Fat: 22g | Saturated Fat: 2.9g | Fibre: 8g | Sugar: 9.6g  
WEDNESDAY 
Moroccan minced walnut flatbreads
SERVES 2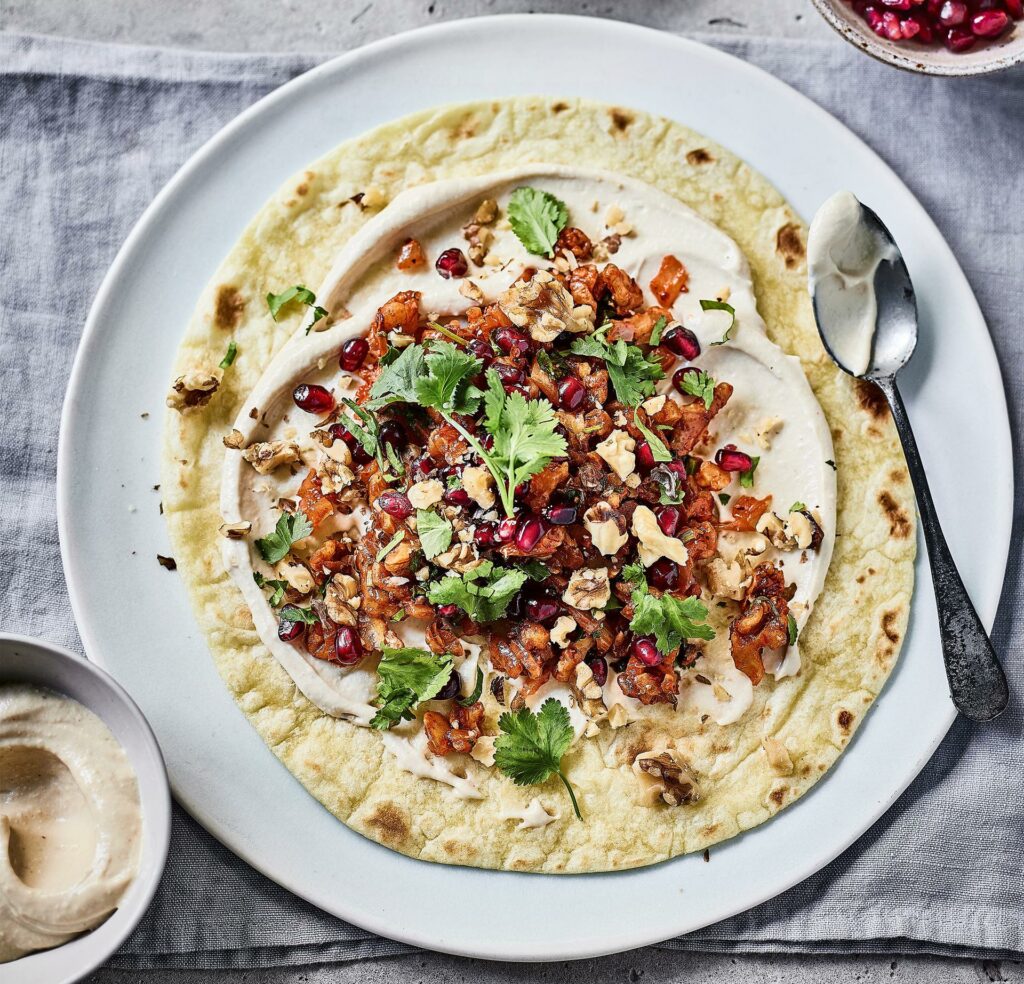 Ingredients 
100g walnuts plus extra to serve
1 tbsp olive oil
1 onion, chopped
2 tsp harissa paste
1 tsp honey
3 tbsp chopped coriander
2 flatbreads
100g houmous
50g pomegranate seeds 
Finely chop the walnuts and place in a bowl, cover with lukewarm water for 20 minutes,




drain well.

 

Heat the oil in a frying pan and fry the onion for five minutes, add the harissa and honey then add the walnuts and half the coriander and cook for a further two minutes.

 

Warm the flatbreads and spread with the houmous. Sprinkle over the walnut mixture and




then the pomegranate seeds, extra chopped walnuts and the remaining coriander.

 
Nutrition information 
Serving: 356g | Calories: 944kcal | Carbohydrates: 61g | Protein: 26g | Fat: 63g | Saturated Fat: 7.7g | Fibre: 15g | Sugar: 16g
THURSDAY  
Nut keema by Nadia's Healthy Kitchen
SERVES 4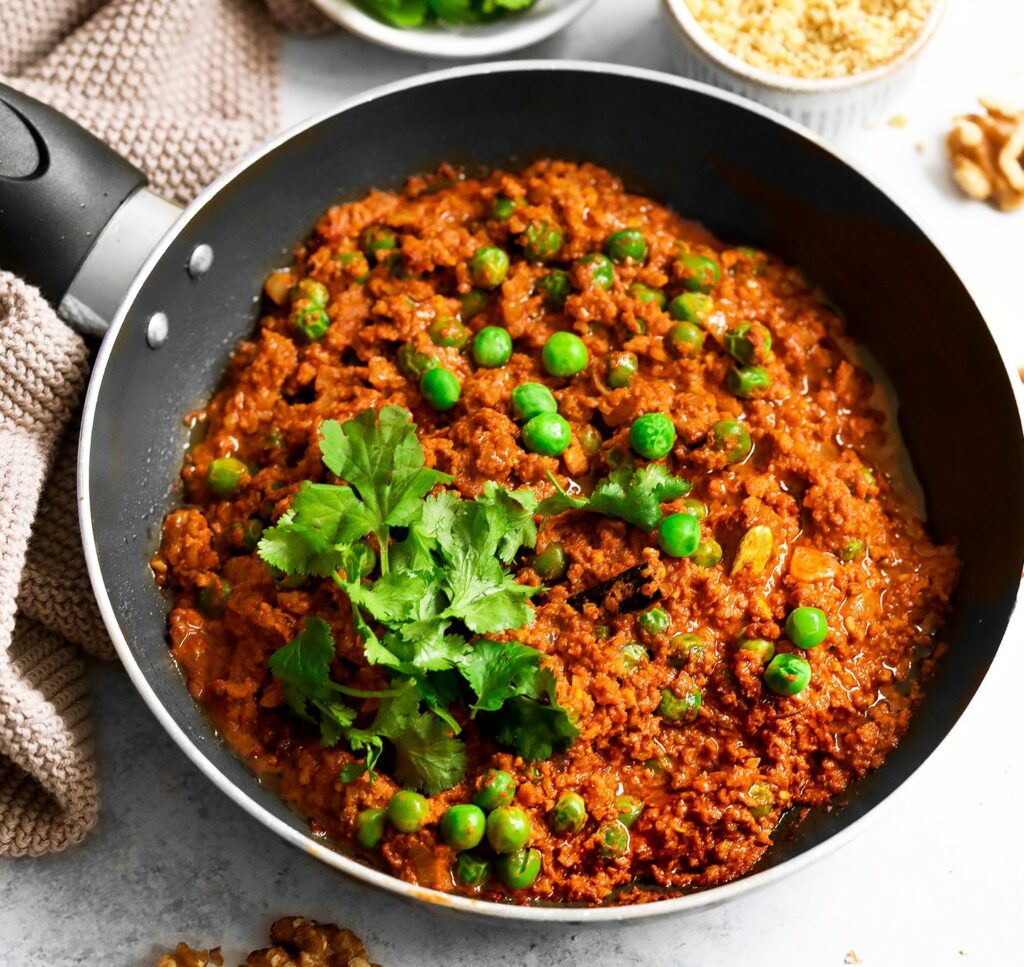 Ingredients
130g choice nut
1/2 small onion, finely chopped
1 bay leaf
2 small pieces of cinnamon bark
3 cardamom pods
1 tbsp garlic ginger paste
1/2 tsp cumin
1 tsp garam masala
1/4 tsp turmeric
1/4 tsp chilli
4 tbsp tomato purée
1/4 cup water
1 tbsp lemon juice
1 tsp maple syrup
Salt & pepper
60g frozen peas, thawed 
Place the nuts of choice in a food processor and pulse a few times until crumbly. Don't




blend for too long, you don't want the texture to be too fine.

 

Transfer to a bowl and cover with lukewarm water. Leave to soak for 15-20 minutes, then




drain.

 

Heat one tbsp oil in a frying pan. Sauté the onions for about five minutes until transparent, then add the bay leaf, cinnamon bark and cardamom pods. Cook for another minute.

 

Add the garlic ginger paste and spices, then add the walnut mince. Toss and cook for a




couple of minutes.

 

Add the tomato puree, water, maple syrup and lemon juice and season to taste with salt and pepper. Continue cooking until the mixture thickens (about five minutes), then fold in the thawed peas. Take off the heat, garnish with fresh coriander and serve with rice. Enjoy!

 
Nutritional information
Serving: 96g | Calories: 271kcal | Carbohydrates: 7.3g | Protein: 7.4g | Fat: 23g | Saturated Fat: 2.5g | Fibre: 3.8g | Sugar: 5.3g Notes: Salt: 0.12g
FRIDAY  
Butternut squash, sage and onion filo parcels by Lisa Faulkner
SERVES 1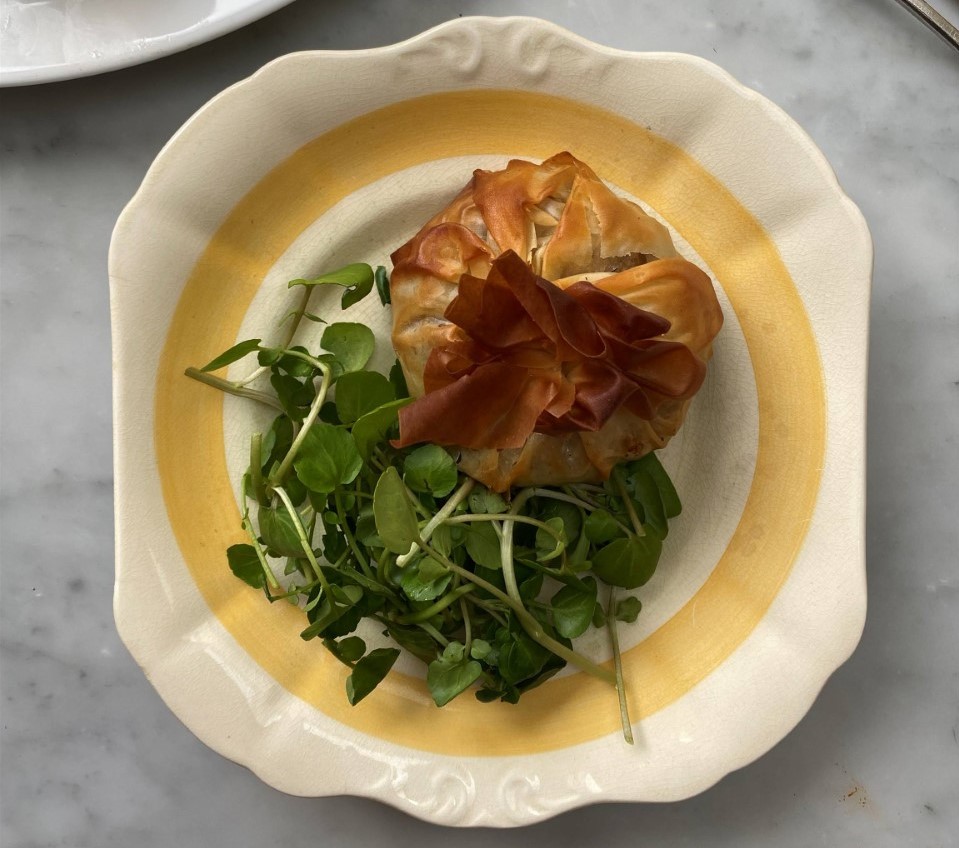 Ingredients 
350g butternut squash, cubed
Olive oil
1 leek, sliced
50g walnuts, chopped
85g sage and onion stuffing mix
Approx. 10 sage leaves, chopped
Salt and pepper
1 dessert spoon white miso paste optional or 1 tsp yeast extract
4 sheets filo pastry, cut in half
100g melted vegan butter 
Preheat the oven to 18°C / Gas 4.

 

Place the butternut squash and sliced leeks into a roasting tin, drizzle with a little olive oil salt and pepper and bake for 25-30 minutes. Set aside to cool.

Make up your stuffing mix as per packet instructions. Set aside to cool.

 

Chop your walnuts into small pieces.

 

Mix the cooled squash, leeks, stuffing, chopped sage and walnuts together in a large bowl. Add your miso paste and salt and pepper and divide the mixture into four even balls.

 

Melt your vegan butter of choice. Place one square of filo on a board and brush with vegan butter.

 

Lay another square on top the other way so you make a star shape. Brush




with melted vegan butter and place the filling in the centre.

 

Gather all the corners together and pull them in tightly so they look like a little purse. Squeeze tightly and brush all over with the vegan melted vegan butter. Place on a lined baking tray in the oven for 20-25 minutes until golden.

 
SATURDAY 
Smoky homemade beans on Toast
SERVES 4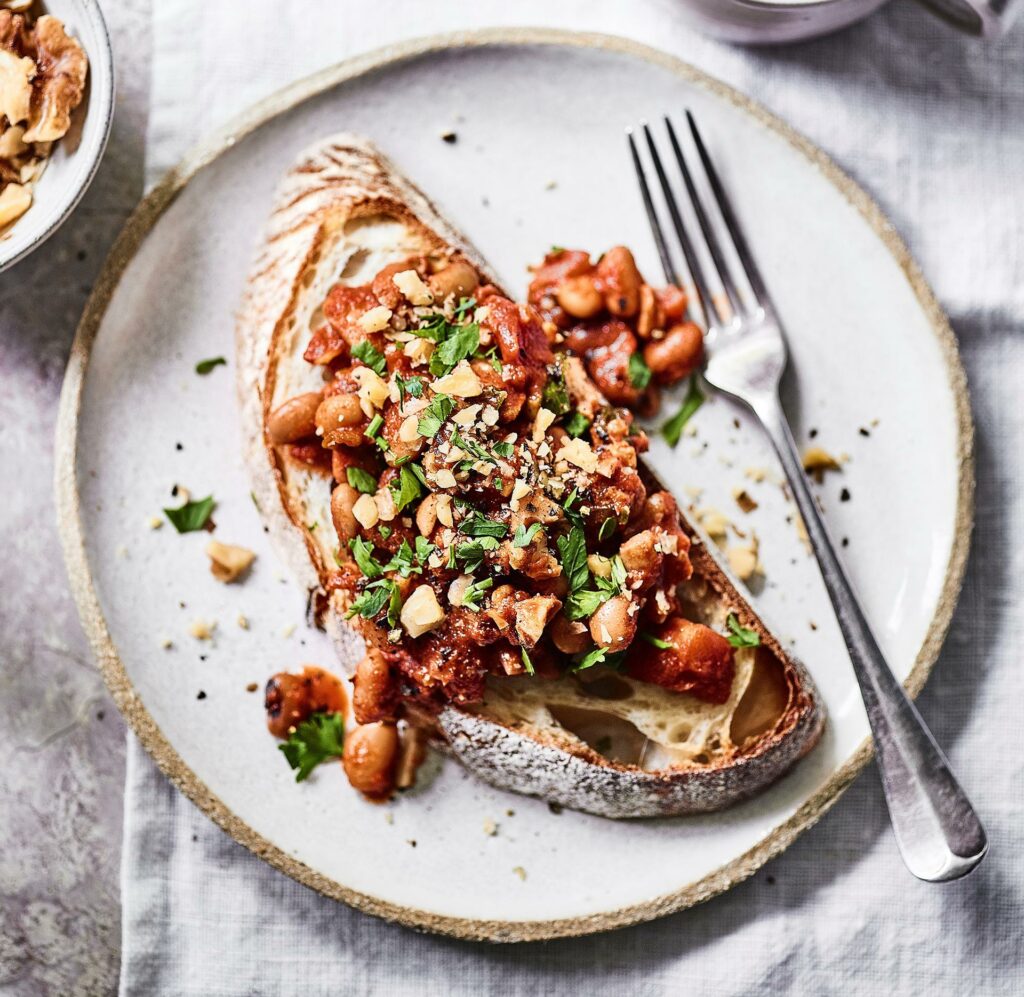 Ingredients
½ tbsp olive oil
4 spring onions, chopped
1½ smoked paprika
400g can mixed beans, drained and rinsed
400g can chopped tomatoes
1 tsp caster sugar
1 tbsp Worcestershire sauce
100g nuts of choice, chopped, plus extra to serve
2 tbsp chopped parsley
4 slices sourdough toasted 
Heat the oil in a large saucepan and fry the spring onions for one minute, then add the paprika.

 
Add the beans, tomatoes, sugar, Worcestershire sauce, walnuts and 100ml water. Cover and bring to the boil, cook for five minutes, stirring occasionally. Remove the lid and cook for a further three minutes and season to taste.

 

Stir in half the parsley and spoon over the toasted sourdough bread, serve sprinkled with remaining parsley and extra walnuts.

 
Nutritional information
Serving: 247g | Calories: 472kcal | Carbohydrates: 45g | Protein: 17g | Fat: 23g | Saturated Fat: 2.7g | Fibre: 9.5g | Sugar: 9g
SUNDAY 
BBQ walnut 'meat' pizza by So Vegan
SERVES 4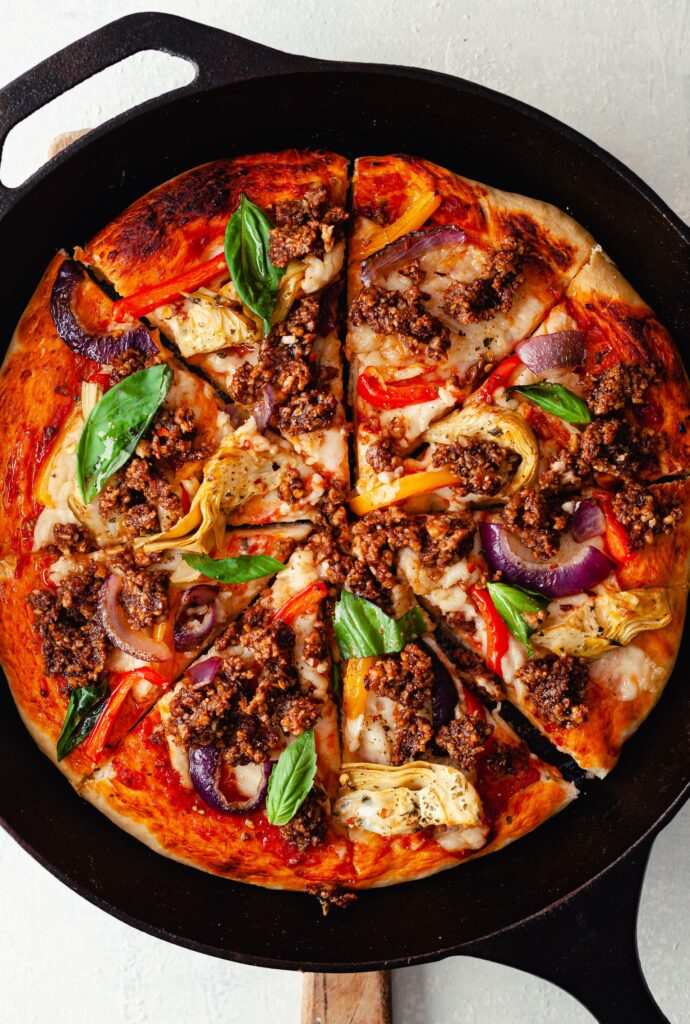 Ingredients 
420g strong white bread flour
2 tsp fast action dried yeast
1 tsp salt
250 ml tepid water
2 tbsp olive oil plus extra for greasing and topping 
Toppings
140g pizza sauce shop-bought or see below for our homemade version
200g vegan cheese, grated 
½ yellow pepper, sliced 
½ red pepper, sliced 
½ red onion, sliced 
100g marinated artichokes in oil quartered (fresh or jarred) 
2 pinches of chilli flakes 
1 small handful of fresh basil 
Walnut Meat
120g walnuts
1 tbsp bbq sauce
2 tsp soy sauce 
Pizza Sauce
1 tbsp olive oil
1 garlic clove, peeled and diced
1 x 400g tin of chopped tomatoes
½ tsp dried oregano
Salt & pepper 
To make the Pizza sauce 
Add the olive oil to a saucepan on a low-medium heat. As soon as the oil is hot, add the




garlic and fry for a minute or two, or until the garlic begins to turn golden.

 

Then add the chopped tomatoes, dried oregano and pinches of salt and pepper. Simmer for




20 minutes, then remove from the heat.

 
Use straight away or store the sauce in the fridge in an airtight container for up to five days.

 
To make the dough 
Add the flour, yeast and salt to a large mixing bowl. Stir to combine and make a well in the




middle. Pour in the water and olive oil and stir to combine, then empty the dough onto a




clean work surface. Bring the dough together with your hands and knead for ten minutes




until you can stretch the dough without it tearing (note: you shouldn't have to flour the




work surface – this might make the dough too dry).

 

When you're ready, lightly oil the mixing bowl you used earlier, add the dough and cover with a slightly damp tea towel. Leave somewhere warm to prove for 45 minutes to an hour or until it has doubled in size.

 

Preheat the oven to 240°C. Lightly punch the air out of the dough and divide it into two




pieces. Place one piece underneath the damp tea towel or freeze it for another time. Then




drop the other piece of dough in a cast-iron pan (we use a 26cm pan). Use your hands to




gently push the dough to the edges of the pan. Then add half of the pizza sauce, using the




back of a ladle or spoon to push the sauce to the edges of the base. Sprinkle over half of the




cheese, followed by half of the yellow pepper, red pepper, red onion and artichokes. Bake




for 17 minutes.

 
To make the 'meat' 
Meanwhile, add the walnut meat ingredients to a food processor and blend into a mince-like texture, then leave to one side.

 

Take the pizza out of the oven, scatter half of the walnut meat mixture on top and place the




pizza back in the oven for three minutes.

 

When the pizza is ready, sprinkle over a pinch of chilli flakes, add half a dozen or so fresh




basil leaves and drizzle over some olive oil. Slice and serve, then start building the remaining




pizza.

 
Nutritional information
Serving: 337g | Calories: 263kcal | Carbohydrates: 30g | Protein: 6.1g | Fat: 13g | Saturated
Fat: 4g | Fibre: 2.3g | Sugar: 2.6g
For more delicious plant-based recipes, head to our Food & Drink archives. Bon appétit!