These delicious recipes prove that haggis, neeps and tatties can be served up with as much luxury as a 3kg lobster doused in truffle oil. This alternative menu is provided by cooking legends, Mac & Wild, from the heart of the Scottish highlands.
All dishes can be made with vegetarian haggis, so even your meat-free friends can enjoy.
Haggis Mac & Cheese
FEEDS 4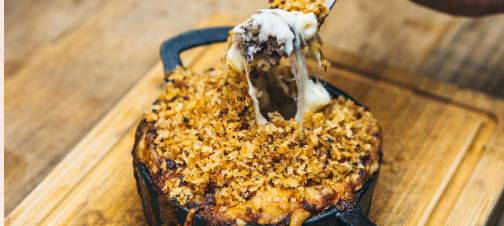 Ingredients
500g cooked macaroni pasta
500g cheesy Béchamel sauce
200g crumbled Haggis
150g grated mature cheddar cheese
150g breadcrumbs
Method
Cook your pasta and immediately cool under cold water.
Mix equal weight of cooked pasta and béchamel – don't worry if you add too much béchamel, you can never add too much. Pour half of your macaroni cheese mix into your ovenproof dish.
Evenly crumble your cold haggis over the mac and cheese. Pour over the second half of the mac & cheese mix.
Evenly sprinkle the grated cheddar cheese with the breadcrumbs on top.
Bake in the oven at 180C for 25-45 minutes until bubbling hot and golden.
Turbo haggis tatties
FEEDS 4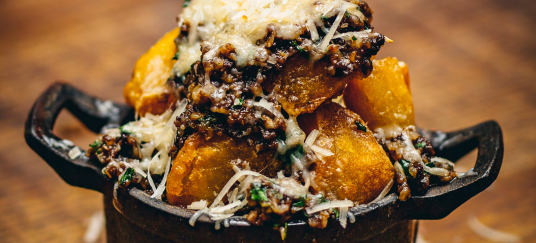 Ingredients
600g peeled tatties
3tbs veg oil
200g haggis
100ml jus
1/2 shallot finely diced
1 bunch parsley, picked and finely diced
Handful finely grated parmesan
Method
Dice the tatties into cubes, boil 20 minutes until soft.
Drain the tatties, cover in oil and table salt and place in the oven for 45-60 minutes at 180 degrees until golden and crispy.
Place the haggis into a saucepan in a little oil and break down with the back of a wooden spoon.
Add the jus/stock and simmer until the tatties are ready or the stock reduces to the perfect consistency.
Take off the heat and add the shallots and parsley.
Spoon the haggis ragu over the tatties and grate the parmesan on top.
Haggis Scotch egg
FEEDS 4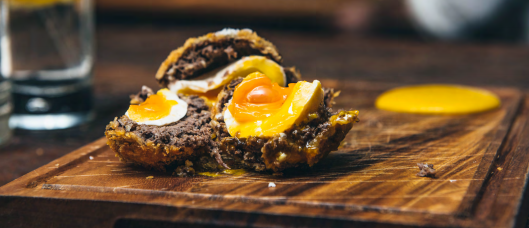 Ingredients
4 eggs
120g haggis
40g black pudding
200g plain flour
4 eggs whisked
150g breadcrumbs
Instructions
Break down the haggis into a fine crumb and mix until it is an even mixture.
Separate in to 80g balls and squash into discs.
Boil the eggs for six minutes then immediately plunge into running iced water for ten minutes until cool.
Peel the eggs and wrap in the sausage meat.
Rolled eggs in the flour, then whisked eggs, then breadcrumbs.
Shallow fry the Scotch egg at 170 degrees for five minutes on each side.
Served with your condiment of choice.
Haggis pops and red Jon sauce
FEEDS 4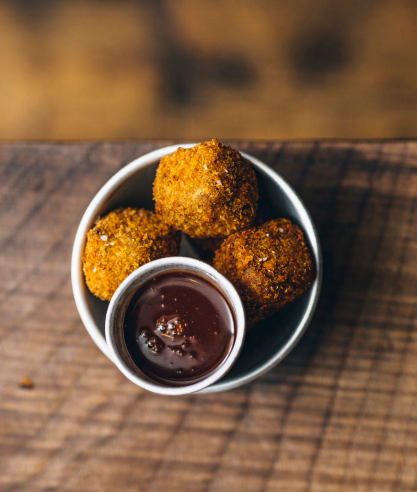 For the haggis pops
Ingredients
500g Macsween traditional haggis
4 whole medium free range eggs
300g Panko bread crumb (Standard white bread crumb is also good)
150g plain flour
Method
Cube your chilled haggis with a sharp knife — try your best to allocate five pieces of haggis pops per person — we are looking for 20 pieces in total for this recipe. (Any trimmings put a side to use in another one of our recipes — Mac & wild Haggis mac & cheese).
Now to set up your bread-crumbing section. Take three large bowls, in one bowl pour in your plain flour.
The second bowl, crack your four medium eggs into and beat well.
The third bowl use for your breadcrumbs. Now line up your bowls in this exact order. 1) flour 2) eggs 3) breadcrumbs
Last thing before starting to breadcrumb is to place a large tray next to the breadcrumb bowl.
This will be the Bread crumbed haggis pops last vesicle before frying. Okay, now to get your hands dirty! Transfer your haggis cubes to the flour bowl and coat well.
Next step is to remove the haggis cubes from the flour and dust off any excess flour before dropping into beaten eggs. Coat the cubes in the beaten eggs.
Please make sure they're all covered in egg.
Now repeat process as before and drain as much egg off the cubes as possible before transferring to breadcrumbs.
Lastly toss the cubes through the breadcrumbs until 100% covered.
Once completed, transfer to a large tray and keep in the fridge until ready to fry.
For the red Jon sauce
Ingredients
120g Red currant jelly
40g Dijon mustard
25ml Haig club whisky
Method
Transfer your red currant jelly to a medium heavy based saucepan and bring to a gentle simmer.
Now add your Dijon mustard & Haig Club whisky to the simmering jelly.
Whisk in vigorously until well combined.
Take off the heat and allow to cool to room temp. Pour sauce into serving ramekins ready for haggis pop dunking.
Munro's haggis, neeps and tacos
FEEDS 4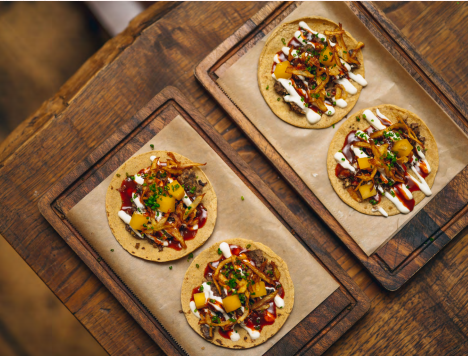 Ingredients
8 soft corn tortillas (toasted lightly on griddle with oil)
500g Baked Munro's haggis (60g per taco)
8 tbsp pickled swedes brunoises
1 tbsp sprinkled over each taco
8 tsp crispy tattie bits (for sprinkling)
Roughly grated Maris piper potato fried at 180 degrees in a deep fat fryer until crispy and golden.
80ml Buck fast sriracha hot sauce
10ml on each taco
80ml whisky sour cream
8 pinches of finely chopped chives
Method
Lay your plate or serving dish on the table next to the oven to warm up.
Now lightly toast your tortilla on the grill or frying pan until golden and slightly crisp.
Lay your tortillas flat side by side on your plate/ serving dish.
On a baking tray, crumble your haggis. Place in the oven for five minutes at 180 degrees or until piping hot. Not burnt!
Spoon 60g of haggis centrally onto each taco.
Follow with your buck fast sriracha, squeeze over the haggis mound in a zigzag motion.
Now follow with your whisky sour cream, repeating the same technique.
Follow by sprinkling a tbsp. of pickled swede brunoises over each taco.
Follow with a sprinkle of crispy tatties on each taco.
Finish with a generous sprinkle of finely chopped chives on each taco