A lot of us are finding we've become more creative and frugal with our recipes due to our current situation, but there are still ways to eat healthily while using up what's in the back of the cupboard. These healthy, protein-packed egg recipes from British Lion Eggs are full of vitamin B2, selenium, vitamin D, zinc, copper and iron.

Spicy huevos rancheros
A protein-packed dish, bursting with flavour and spice. Serve with a Bloody Mary on a lazy weekend morning.
Serves 2
Prep time: 15 mins
Cooking time: 20 mins
Ingredients
4 medium British Lion eggs
1 tbsp olive oil
1 medium onion, finely sliced
1 x 400g tin black beans, drained and rinsed
1 green chilli, deseeded and finely chopped
200g cherry tomatoes, quartered
juice of 1/2 lime
1/4 garlic clove, crushed
1/2 tbsp olive oil
Corn tortillas
1/2 avocado, sliced
40g feta, crumbled
Small handful of coriander, roughly chopped
Method
Firstly, heat half of the olive oil in a large frying pan over medium-high heat. Add the onion and cook for 5-7 minutes, until starting to soften. Add the black beans and cook for a further 3 minutes, then add the chilli. Cook for 2 more minutes, then roughly mash with a potato masher or a fork.
Make 4 indents in the bean mash and crack an egg into each one. Season with salt and pepper. Reduce the heat to medium and cook for 5-7 minutes, covering the pan towards the end, if needed, to help the eggs cook.
Meanwhile, make the tomato salsa. Combine the tomatoes, lime juice, garlic and remaining olive oil in a bowl and season to taste.
Finally, heat the corn tortillas according to the pack instructions. Once the eggs are cooked, spoon over most of the tomato salsa, add the avocado slices to the pan, crumble over the feta and sprinkle over the coriander. Enjoy straight away with the corn tortillas.

Beetroot, kale and goat's cheese quiche
A protein-packed dish, full of Mediterranean flavours. Serve with Greek yoghurt and mint.
Serves 6
Prep time: 10 mins
Cooking time: 55 mins
Ingredients
3 large British Lion eggs
1 x ready-made pastry tart case (around 23cm in diameter)
1 tbsp olive oil
1 medium onion, finely chopped
150g curly kale, tough stems removed
150ml milk
150ml double cream
275g cooked beetroot, larger ones sliced in half
75g goat's cheese, cut into rounds
small handful of dill, roughly chopped
Method
1.    Preheat the oven to 200C/180C Fan/Gas Mark 6.
2.    Meanwhile, heat the olive oil in a medium frying pan over medium heat. Add the onion and cook for 10 minutes, until softened.
3.    Bring a medium saucepan of slightly salted water to the boil, add the kale and simmer for 10 minutes. Drain well, rinse under cold water to cool, then squeeze out any excess moisture. Set aside.
4.    In a large jug, whisk together the eggs, milk, double cream along with some seasoning.
5.    Place the tart onto a baking tray. Spoon the onions and kale into the base of the pastry case and carefully pour the cream mixture into the case. Add the beetroot, goat cheese and dill. Place the tart into the oven and cook for 45-50 minutes, until set and golden. Finally, leave to cool for 30 minutes before slicing.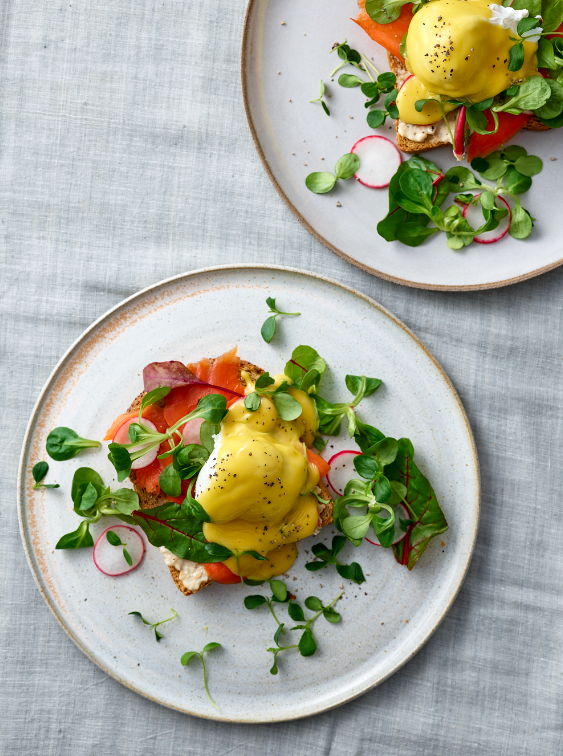 Classic eggs Benedict
Sometimes, classic recipes are just what you need. Add some greens for added iron and colour.
Serves 1
Prep time: 5 mins
Cooking time: 5 mins
Ingredients
1 medium protein-packed British Lion egg
2 tbsp white wine vinegar
2 tbsp hollandaise sauce
1 slice sourdough
50g smoked salmon
1 tsp horseradish sauce
20g mixed baby salad leaves
1 shallot, sliced
2 radishes, sliced
Cress for garnish
1tbsp olive oil
Method
Firstly, poach the egg. Bring a deep saucepan of water to a boil. Add the vinegar. Stir the water, crack the egg into the water and carefully tip it into the centre of the saucepan. Cook for 3-4 minutes. Lift the egg out and drain it on a piece of kitchen paper.
Warm up the hollandaise sauce in a small saucepan.
Finally, toast the sourdough. Spread the horseradish sauce over and arrange the salmon on top. Put the poached egg on the middle of the toast and pour the hollandaise over. Garnish with the salad leaves, shallot and radish slices, cress and a drizzle of the olive oil.